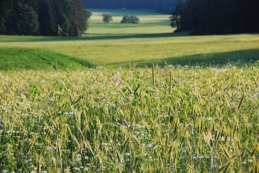 I experienced many paranormal phenomena as a child, occurences that some people would deem illogical and not aligned with the known laws of physics. In later life, having for years sought guidance only through my art, I started to further develop my mediumistic abilities for practical purposes.

My abilities take on different expressions. I am clairvoyant, clairsentient and clairaudient, meaning that I can see, hear and sense things that most people cannot. I am guided by my spiritual helpers to relate information. As an artist, I also have some access to information from the universal field where all information is stored from previous, present and possible future events.

I am certified as a psychic medium at the Academy for Inner Potential in Stockholm since 2013. The purpose of certification is to ensure personal, spiritual and medial maturity, so that spiritual mediumship may be safely practiced as a profession. This includes a strong knowledge base and psychological insight, as well as thorough training in meeting people of all possible backgrounds and dispositions. This said, please note that I am not a therapist.

My principal medial capacity is to channel information from the other side. While in contact with relatives or friends who have passed to the other side, my spiritualistic purpose is to first communicate charasteristics and details of the departed, so that you can recognize who it is. Then, I may relate any messages that this person has in store for you personally, often a short note that could help you at the present moment.
A session of guidance with a medium can be a time to find strength, comfort, hope and wisdom for daily life. One may find love and support from one or more persons passed to the other side.

Please note that I can only transmit information sent from the other side; I cannot influence or know beforehand who or what will come through. You and I both have to trust that what is transmitted originates from a wisdom deeper than our own.

Apart from spirit channelling, I offer personal spiritual guidance, as well as tarot readings as a tool for guidance around life concerns and spiritual growth. I am additionally available for leading meditation sessions for individuals or groups.

How a session works

You may visit me for a personal consultation in the Stockholm area. Please contact me in advance for an appointment. If you come for a visit, you may pay in cash after the session is completed.

My mediumistic abilities work well at distance, why I also offer spiritual guidance over telephone. This option is available for tarot reading and energy healing as well. Telephone sessions are pre-paid via this homepage after an appointment is agreed upon.

A session is usually 45 minutes. Telephone sessions are also available in 20, 30 and 60 minute durations. Before any session I need a moment to tune in - with telephone sessions this is done before the appointed time.

Code of conduct for spiritual guidance

I keep to a strict code of conduct, including non-disclosure and ethical principles of serving humanity and the spiritual realm. You can trust that your visit, and everything disclosed in any session of guidance, is absolutely confidential.

As mentioned, I am not a therapist within psychotherapy and cannot offer therapeutic treatment.

Also, please note that as a psychic medium my role is to passively relate information between a spiritual realm and client. I cannot in any way influence who will appear on the other side, nor what information will come through. The information will reflect what you need most in your present situation.

My code of conduct
Your privacy, your visit and everything diclosed in any sessions of guidance is strictly confidential.
I take upon me the responsibility to serve humanity and the spiritual dimensions to the best of my ability.
I strive to keep neutral, so that the information channeled is not colored by my personal views and opinions.
I strive to help every individual find support, strength, courage and hope through spiritual guidance.
I vow to be in truthful service of that which guides, trusting that its wisdom is far deeper and wider than my own.

Last note…
I have been blessed with extensive experience with mediumistic and personal guidance. All the positive appraisals over the years is heartening - the joys and sense of purpose often found among my clients is a far greater reward than any economic compensation. For me, the mediumship is a calling to serve for the greater good. I keep the pricing low, available to anyone. Please note that the cost of a session hardly covers the actual time put into planning and performing a session. Hence I appreciate concise communication, and for clients to be ready to begin session at the appointed time.
A mediumistic session is a three part communication between you, me and the spiritual realm. We all have a responsibility to facilitate a successful session.
You may visit me at Landfjärden, 30 minutes south
of Stockhom in the direction of Nynäshamn.
Telephone session pre-pay
For a telephone session, please contact me at carinas.box@gmail.com or 073-5854005 to appoint a time. After the time is agreed upon, but before the session, payment is done here via Paypal.

If you visit me for an individual session, payment is done in cash or Swish right after the session is completed. Please bring the proper amount for the duration.